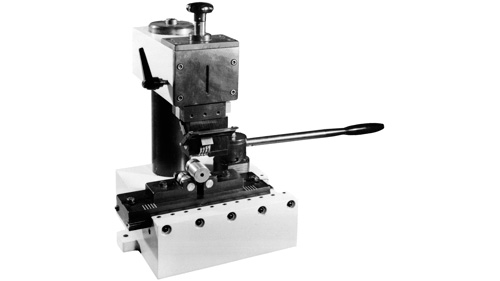 The manual roller embossing machine enables the rational and economic labeling of round work pieces.
It is very user-friendly and especially suited for job production and small series.
The robust construction combined with precise components enables marking tools with a strength of 1400 n/mm2 at a maximum font height of 5 mm. Fast refitting for different work piece diameters is done via rough and precise settings as well as adjustable roller blocks.
All embossing tools in our range can be applied effortlessly. Attaching an additional measuring meter results in constant and exact embossing depths. The embossing process is controlled with a hand lever and the parts are inserted manually. The drive may also be pneumatic.
Technical data:
| | |
| --- | --- |
| Work piece Ø | 6 bis 150 mm |
| Embossing length | 70 mm |
| Weight | ca. 80 kg |
| Dimensions | 600 x 350 x 350 mm |
| Space requirement | 500 x 700 mm |