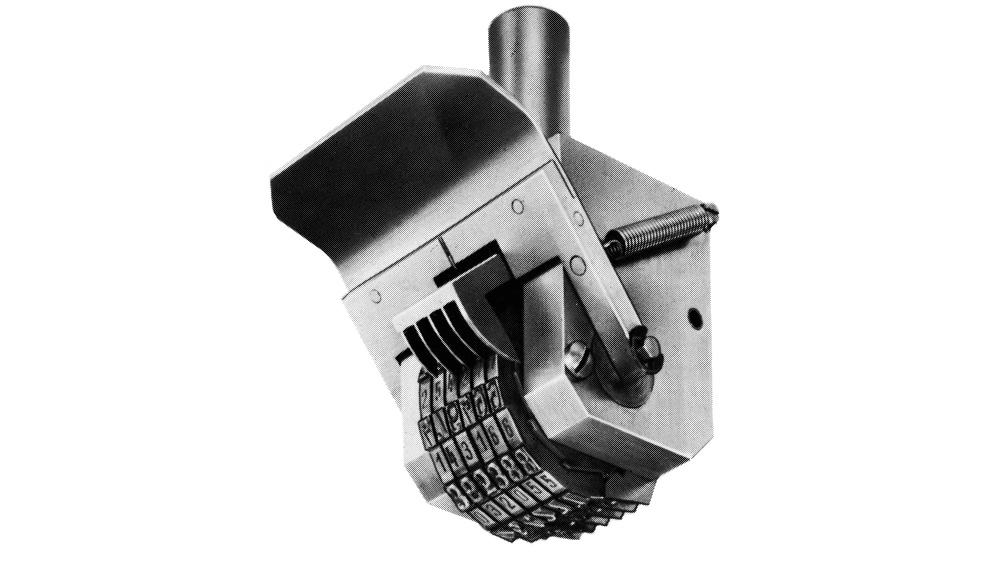 Embossing units for automatically consecutive number embossing. The embossing wheels are made of special alloy tool steel. They are 10-digit with an indexing mechanism, which enables embossing without prefixed zeros.
The set number can be read off in the see-through window. These units are divided into font heights from 2-12 mm.They are switched forward manually or in connection with the work lift of the press.
Also available with a heater.
Dimensions of the numbering embossing presses 6-digit no. 220, 221, 222
| A | B | C | E | F | G | H | I | K | L | M |
| --- | --- | --- | --- | --- | --- | --- | --- | --- | --- | --- |
| 2 | 50 | 165 | 65 | 35 | 65 | 54 | 50 | 40 | 20 | 23 |
| 3 | 50 | 19 | 65 | 35 | 65 | 54 | 50 | 40 | 20 | 23 |
| 4 | 60 | 24 | 75 | 50 | 80 | 77 | 70 | 40 | 20 | 29 |
| 5 | 60 | 28 | 75 | 50 | 80 | 77 | 70 | 40 | 20 | 29 |
| 6 | 60 | 30 | 75 | 65 | 110 | 93 | 80 | 40 | 20 | 41 |
| 7 | 70 | 38 | 85 | 65 | 110 | 93 | 80 | 50 | 30 | 41 |
| 8 | 70 | 40 | 85 | 65 | 110 | 93 | 80 | 50 | 30 | 41 |
| 9 | 75 | 46 | 90 | 65 | 110 | 93 | 80 | 50 | 30 | 41 |
| 10 | 80 | 52 | 95 | 65 | 110 | 93 | 80 | 50 | 30 | 41 |
| 11 | 95 | 58 | 110 | 75 | 140 | 117 | 100 | 50 | 30 | 44,5 |
| 12 | 100 | 62 | 115 | 75 | 140 | 117 | 100 | 50 | 30 | 44,5 |
A = height of the number C = imprint width DIN 14510
Individual parts

| | | | | |
| --- | --- | --- | --- | --- |
| 1 | Wheel box | | 10 | Axis for switch flap |
| 2 | Switch flap | | 11 | 2 circlips |
| 3 | Vordergreifer | | 12 | Axis for Hintergreifer |
| 4 | Spring for Vordergreifer | | 13 | Axis for Vordergreifer |
| 5 | Number wheels 2nd to 6th digit | | 14 | Clamping pin |
| 6 | Number wheel 1st digit | | 15 | Stop screw |
| 7 | Hintergreifer 1st to 6th digit | | 16 | Spring suspension |
| 8 | Springs for Hintergreiferr | | 17 | Return spring |
| 9 | Axis | | | |
Changes reserved
technical details
| font heights | digits | adjusting | | | |
| --- | --- | --- | --- | --- | --- |
| 1,5 - 12mm | 2 -12 | fortlaufend, automatisch | | | |