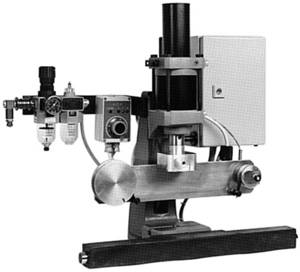 Pneumatic stamping presses for hot-stamping polymers, leather, cardboard, wood and lacquered materials with color foil or as blind stamp.
The standard designs are available in three sizes with or without color foil transport. Exact stamping depends on the embossing temperatures, the pressure and the stamping time.
The embossing temperature is adjusted continuously via a control device up to 250 °C, measured and kept constant by temperature sensors.
The color foil feed is coupled with the press lift. The pressure and embossing time can be adjusted. Heating takes place via heater cartridges, which are attached in the wheel axis with the adjustable embossing tools and in the holder casing with type holders.
The temperature sensors are directly attached to the heater cartridges. All stamping/embossing tools, type holders and embossing stamps can be heated.
Due to the low force requirement of the hot-stamping technique, even difficult and delicate parts can be easily stamped. Hot-stamping presses are suited for the individual labeling of industrial products. Also available in special designs according to customer specifications.
Technical data:
Typ
P1
P2
P3
Pressure at 6 bar
kN
4,5
12,5
20
Work lift
(adjustable lift adjustment with precision deep impact)
mm
50
50
50
Air consumption at 6 bar
Normalliter/ccm Hub
1,0
2,0
3,2
Work height adjustable
(shaft adjustment)
mm
60–180* (320)
60–180* (320)
60–200
Expansion
mm
86
86
130
Tool ram Ø
mm
40
40
40
Groove width
mm
10 H9
10 H9
10 H7
Table boring Ø
mm
20 H7
20 H7
25
Table size
mm
150 x 110
150 x 110
200 x 160
Weight
ca. kg
44
55
95
Details